Modus Advisors – Celebrating Ten Years!
Posted by: Tad Weiss on March 7, 2019, Latest News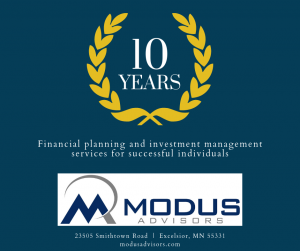 Ten years ago, on March 9, 2009, Modus Advisors opened its doors in Eden Prairie, MN. It was an inauspicious day to start a company, particularly in the financial services industry. The stock market, as measured by the S&P 500, had fallen 56.8% from its peak on October 9, 2007. What came to be known as the "Great Recession" was at its darkest point.
I jokingly tell anyone willing to listen that all the economy needed was for someone to step forward with a little confidence and do something positive, like start a new company. Lo and behold, March 9, 2009 marked the bottom of the stock market decline and started what has now become the longest bull market in our country's history. What at the time looked like a terrible time to start a company turned out to be one of the best!
A lot has happened at Modus and in our industry over the last 10 years. In 2009, we were affiliated with LPL Financial and oversaw $80 million in client assets, only 25% of which were in fee-based advisory accounts. Over the years, the marketplace began to favor fee-based accounts as this arrangement puts the client and the advisor on the same side of the table, working toward the same objectives. The fee-based model eliminates many of the conflicts of interest that can occur with commission-based accounts, and the advisor is required to work in the client's best interest as a fiduciary. As the marketplace evolved, so did Modus. Over the decade, we gradually transitioned to the fee-based model, culminating in 2018 as Modus Advisors became a fee-only Registered Investment Advisor. We are currently located in Excelsior and manage approximately $250 million of assets for our clients, all in fee-based accounts.
The second area where I feel our business model is in sync with the marketplace is in the area of financial planning. Early in my financial services career, I saw the advantages of comprehensive financial planning—the process of reviewing a client's total situation and developing integrated strategies to work toward all their financial goals. The CFP® (Certified Financial Planner) designation debuted in 1985 when I started in the industry; I obtained the designation in 1988. By far the most fulfilling part of my career has been seeing my clients accomplish the goals we established and started working toward decades before.
The third area where I believe Modus truly shines is in our commitment to providing a high level of personalized service, along with the expertise that the profession demands. Kari Haanstad holds the CFA® (Chartered Financial Analyst) designation, the top credentials in the investment industry, and she heads up our portfolio management. Julie Kaufmann and Diane York bring nearly 40 years of combined experience heading up our client services, operations, and technology. Maggie Weiss is our newest team member and she is working towards obtaining the CFP® designation to better serve our clients. We strive to stay current with today's technology and the tools that can make our lives easier, but we believe our clients work with us for the expertise, service and personal touch that our team provides.
I'm proud of how we've grown and evolved as a firm over the past 10 years, but none of this would be possible without you, our valued clients. It is your life stories and personal goals that give our work real meaning, and it is your success that drives our growth. Thank you for your loyalty and for allowing us to play a meaningful role in your lives. We look forward to the future with optimism, and we wish you all continued success in the years to come!
Tad M. Weiss, MBA, CFP®
President, Modus Advisors
The information contained herein reflects the opinions and projections of Modus Advisors, LLC. Modus Advisors, LLC is a Registered Investment Adviser. Advisory services are only offered to clients or prospective clients where Modus Advisors, LLC and its representatives are properly licensed or exempt from licensure. This communication is solely for informational purposes. Past performance is no guarantee of future returns. Investing involves risk and possible loss of principal capital. No advice may be rendered by Modus Advisors, LLC unless a client service agreement is in place.
Subscribe to Blog via Email
The commentary on this website reflects the personal opinions, viewpoints and analyses of the Modus Advisors, LLC employees providing such comments, and should not be regarded as a description of advisory services provided by Modus Advisors, LLC or performance returns of any Modus Advisors, LLC client. The views reflected in the commentary are subject to change at any time without notice. Nothing on this website constitutes investment advice, performance data or any recommendation that any particular security, portfolio of securities, transaction or investment strategy is suitable for any specific person. Any mention of a particular security and related performance data is not a recommendation to buy or sell that security. Modus Advisors, LLC manages its clients' accounts using a variety of investment techniques and strategies, which are not necessarily discussed in the commentary. Investments in securities involve the risk of loss. Past performance is no guarantee of future results.