Do Politics Matter Anyway?
Posted by: Tad Weiss on October 1, 2020, Market Update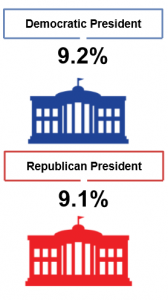 Fear and uncertainty grip the United States today, particularly in politics. Some are concerned that Democratic candidate Joe Biden may win the presidency; others fear the prospect of another four years under the leadership of Republican President, Donald Trump. Should an investor modify their portfolio with the election five weeks away? How much do politics matter when it comes to the stock market and the economy anyway??
Before investors make any hasty portfolio actions ahead of the election, it's important to remember that the stock market has delivered positive results over the long-term regardless of who's in the Oval Office. As this AllianceBerstein graphic shows, the average annual return of the Dow Jones Industrial Average is nearly equal between Republican and Democratic administrations over the last 82 years. The stock market naturally rises and falls based on many factors, but the party in control of the White House has not been a major factor historically.
Leading up to the 2020 election, Modus Advisors will share more information on the relationship between the stock market and politics; stay tuned as we approach November 3rd. Most importantly, make sure your voice is heard and vote by the method that is best for you.
Subscribe to Blog via Email
The commentary on this website reflects the personal opinions, viewpoints and analyses of the Modus Advisors, LLC employees providing such comments, and should not be regarded as a description of advisory services provided by Modus Advisors, LLC or performance returns of any Modus Advisors, LLC client. The views reflected in the commentary are subject to change at any time without notice. Nothing on this website constitutes investment advice, performance data or any recommendation that any particular security, portfolio of securities, transaction or investment strategy is suitable for any specific person. Any mention of a particular security and related performance data is not a recommendation to buy or sell that security. Modus Advisors, LLC manages its clients' accounts using a variety of investment techniques and strategies, which are not necessarily discussed in the commentary. Investments in securities involve the risk of loss. Past performance is no guarantee of future results.